2 concerts of Rammstein on May 15th and 16th last year were attended by around 60,000 people each day. In Europe, it was the first major event after the COVID period and NFCtron was powering all payments. We managed both concerts and all other Live Nation events that followed. For 2023 we agreed on extending our cooperation. NFCtron will be used for payments at both Prague Rocks festivals, The Weeknd, Deep Purple and Depeche Mode concerts.
➡️ Top up your chip credit online and avoid the activation fee
Thanks to NFCtron, it will be easy and quick to pay at all points of sale. In addition, even after last years' experience and detailed data analysis, the organizer adjusted the locations of beer tents and gastro vendors to increase the comfort for visitors.
And what awaits the attendees? It is already possible to top up the chip online and be ready for faster check-in at TOP-UP points. Credit will apply to all Live Nation concerts and festivals in Letňany. If you top-up your chip online, you will avoid the CZK 30 (appx 1,2 EUR) activation fee.
Prague Rocks again in Letňany and this year even in 2 dates
Prague Rocks takes place twice this year. On June 2, Motley Crue or Def Leppard will perform. Less than 3 weeks later, on June 21, Maroon 5 will arrive in Prague. In both cases, a TOP-UP points will be available before the opening of the area, where it will be possible to activate and top-up a wristband with a chip.
TOP-UP points will also be available inside, always within reach of the beer and gastro tents. We recommend topping up a higher amount of credit, you can apply for unused funds conveniently online or via a mobile application. We support Czech bank accounts and SEPA IBANs for free (currency conversion rates may apply). You can create a request until 8/20/2023. After the request is created and approved, chip is deactivated.
Depeche Mode and The Weeknd in Prague
Next concerts will take place in Letňany. Depeche Mode will come to Prague on July 30th, and The Weeknd will take over the Letňany airport area for the last time this year on August 6. We are preparing a similar distribution of TOP-UP points for both events. Thanks to last year's data, the event organizers also optimize the range of goods offered so that every visitor can find their favourite drinks and food.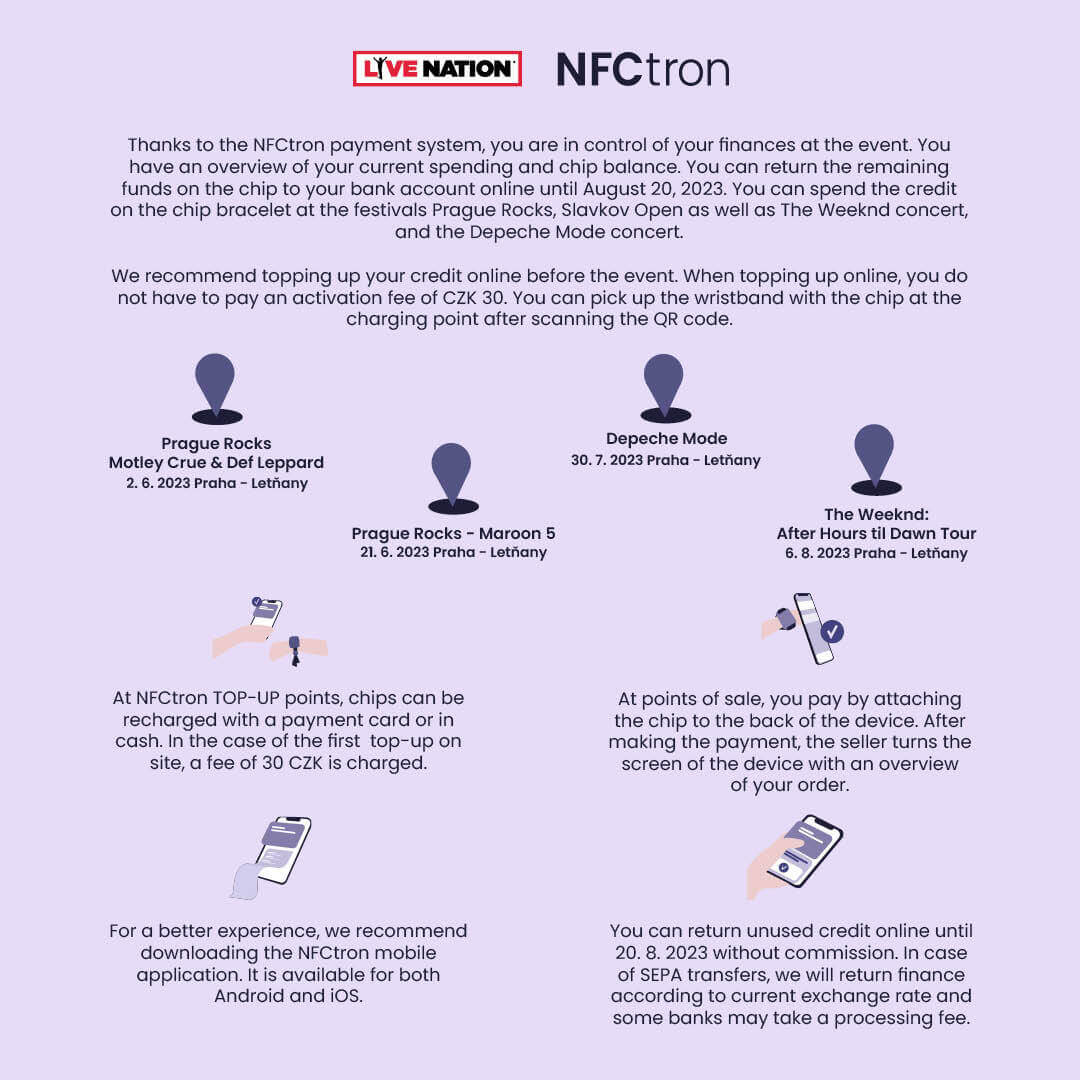 Deep Purple concert
The Deep Purple concert, where we planned to use our payment system in Slavkov u Brna, has been moved to the Winning Group Arena in Brno due to economic, ecological, and organizational reasons. The organizers notified attendees of the change on June 15, 2023. Unfortunately, because of the new location, it will not be possible to use NFCtron for payment at this concert. We hope to return to Slavkov u Brna again next year!
The NFCtron team is ready
Klára Levá – our Head of Event Team is in charge of the Live Nation events this year. Together with the organizer, we prepare an information campaign for the events and hire support staff for TOP-UP positions. Klára will always have a strong team of around 20-30 people with her at every event, depending on the attendance. Did you know, for example, that 10 cashiers work in one ten-meter tent and there is always one member of NFCtron Support available for each TOP-UP zone?
For similar events, chip payment is the most suitable option
Chip payments are the fastest and most reliable method for this type of events right now. Average transaction time is just around 1 s and all payments are not dependent on internet connection. For TOP-UP points just like last year, we stretch the ethernet cables, so we can be sure, that you can top-up in cash or by credit/debit card anytime during the festival. You can top-up in CZK or EUR. Chip payments enable visitors fast and secure payments, they do not have to worry about losing wallet or being scammed (even unintentionally) at the point of sale. Thanks to the NFCtron system, organizers and sellers have an overview of sales and the current occupancy of individual venues.
We recommend all visitors to download the NFCtron mobile application. With NFCtron app you can conveniently return unused credit and rate orders. You will provide an important feedback to both the organizer and the seller so that they can continue to improve the quality of their services.
For payment questions or credit refund assistance, please contact [email protected] .

➡️ Top up your chip credit online and avoid the activation fee